Early Morning at Hot Creek

This post was first published in Slow Photography Movement.
There are places where unique natural elements come together to create truly inspiring landscapes, places that I always feel drawn to and could visit a million times, and the Eastern Sierra of California is one of those. I first visited the Sierra in October 2016 and was really looking forward to seeing and photographing Mono Lake. The tufa towers, the Sierra Mountains, and the possibility of beautiful light seemed too good to miss.
During that visit, I enjoyed a few sunsets at Mono Lake, hiked Little Lakes Valley and saw the amazing trees of the Ancient Bristlecone Pine Forest. It was a great experience that I really wished to repeat, so my husband and I went back the next year to see the fall colors and explore new areas. Nowadays, many people prioritize visiting new places, sometimes just to mark them off of their bucket list, which it is not necessarily bad, but I also believe spending more time in a place can make for a richer experience and a better understanding, especially of places in your "neighborhood."
I am not a morning person, but my intention was to be out shooting as early as possible in order to maximize the time when the morning light is best! I planned to drive 40 minutes to Mono Lake for sunrise, with hopes of capturing a beautiful sky complementing the tufa towers and the water. However, due to nearby wildfires, the day was hazy and the sky was not looking very interesting, so I changed plans. I decided to look for places that I hadn't visited before and that weren't too long of a drive. My thought was that even if the light was poor, at least I would get to see new sites and not spend all day driving. So I started my research and found a place I had never heard of before – Hot Creek Geological Site – only a 16-minute drive from where we were staying! Here was a location that featured boiling water bubbling up from a river, fumaroles, and the Eastern Sierra Mountains in the back, what else did I need?
Having picked a location to visit the next morning, and feeling very excited, I prepared my gear and the clothes I was going to wear. I went to bed knowing it would be an early morning but feeling it would be worth it! The next morning I got up early, got dressed, picked up my gear and snuck out really quietly trying not to wake up my husband… he is also not an early bird, so I let him sleep and I went solo!
I got there with enough time to make sure that I would find the parking area I had researched using Google Maps, and the spot from where I wanted to shoot. I had also used the PhotoPills iPhone app, to determine where I needed to be upon arrival. Once I reached the main overlook parking lot I stopped there to look around and see if there were more people. Not another soul was there, so I felt a bit anxious for a moment, but I decided to move on and continue to the parking spot I had planned. There is a dirt road right after the second parking lot, which was the spot I was looking for. When I saw another car there and two people waiting to shoot the sunrise, I was glad to have some company.
It was a cold morning, only around 39° Fahrenheit. The sky was still a bit hazy without many clouds, but it was so peaceful and beautiful that any anxiety that I might have felt earlier was gone. Moreover, I felt happy to be there enjoying nature and taking in this wonderful scene through my own eyes as well as my camera lens. Plus, doing my research ahead of time and having a plan made the shooting experience more relaxed than scrambling at the last second trying to figure things out. I could just focus on the shots I wanted to get and on appreciating the place.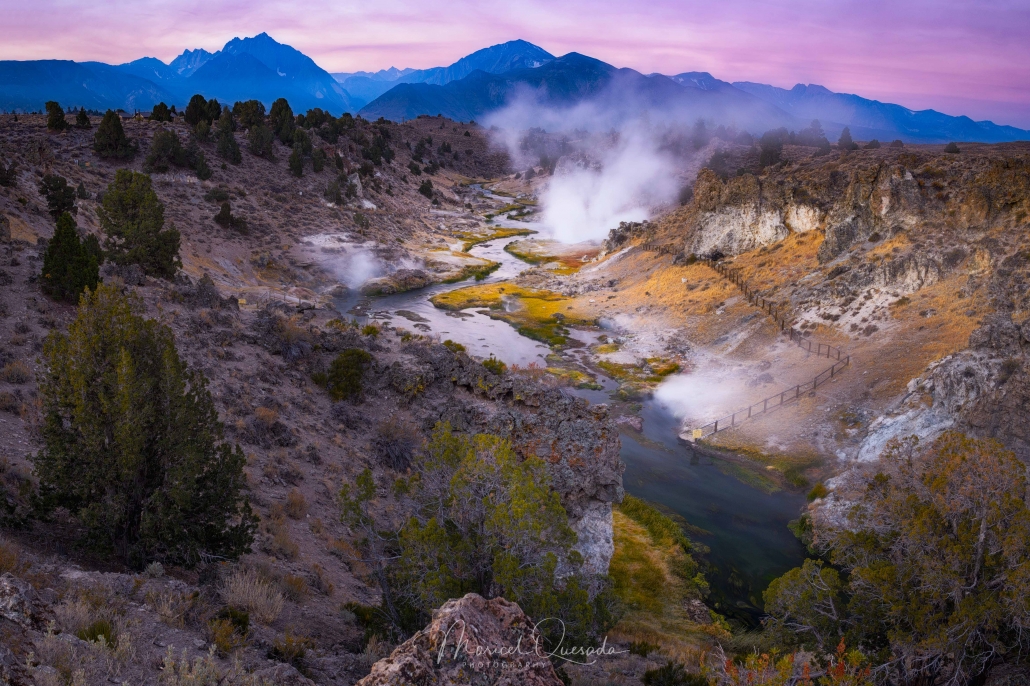 There was not a lot of light yet when I arrived, so I walked around and found a good spot to take some wide-angle shots. Once there was more light, I started shooting. The photo above is a wide-angle shot taken at 24mm when the sun was still below the horizon. After some time in that spot, I moved down to get a closer shot of the creek with the impressive Sierra Nevada in the back. The other two photographers who were there also moved on to other locations and I didn't see them anymore; I was alone again and had the whole scene to myself!
The Sierra peaks didn't have any snow but I really liked their color and how beautiful they looked with the morning light. The sunlight was making the rocks look as if they were in flames, creating a beautiful contrast with the areas that were still blanketed by shadows.
Once the sun was out I could see more people arriving in the parking lot. Apparently, they were not feeling too adventurous though since most were not going down the trail, rather just enjoying the view from the overlook and then leaving after a short while. It was a steep hike coming back up so I understand why some might not feel like going all the way down, but sometimes a bit of effort can give you more rewards, like getting to see the fumaroles and the boiling pools more closely, or perhaps seeing some of the wildlife up close.
Still in the same spot, but wanting to get more details of the creek and the Sierra peaks, I thought of trying to get down to the river. Unfortunately, the area was not accessible; there was no path down. So to get the composition I wanted, I changed my focal length to 70mm and got this shot. Sometimes you have to accept the way things are and get creative!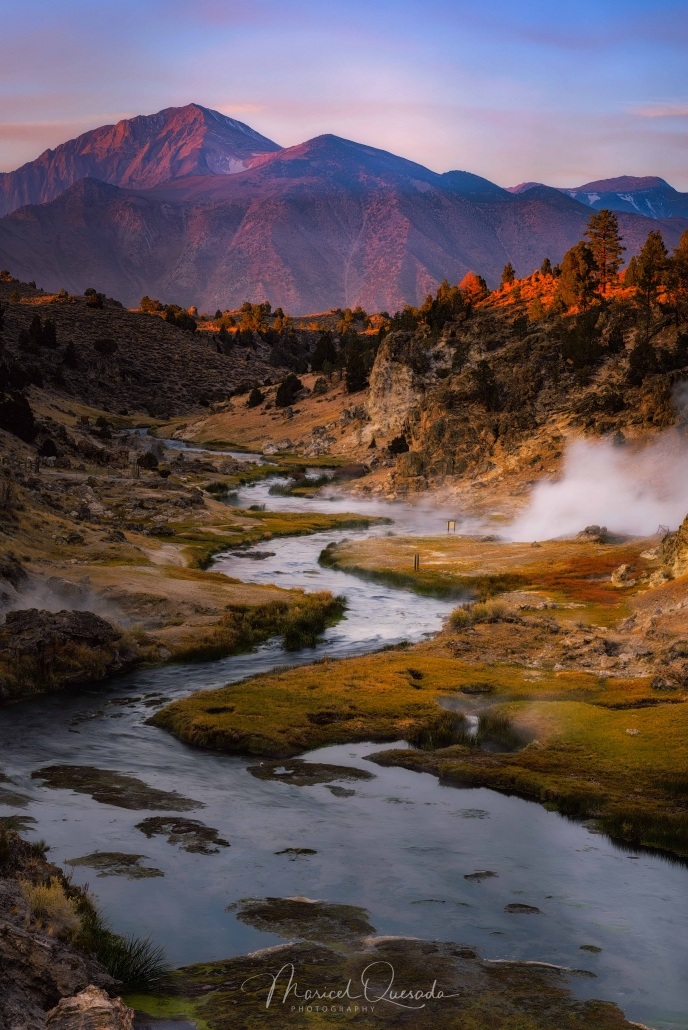 After feeling satisfied with the shots I had from that side of the creek, I took the car and went back to the overlook parking lot. Wanting to get a better look at the fumaroles, I went down the river gorge trail and I found some beautiful turquoise pools seen in the next photo.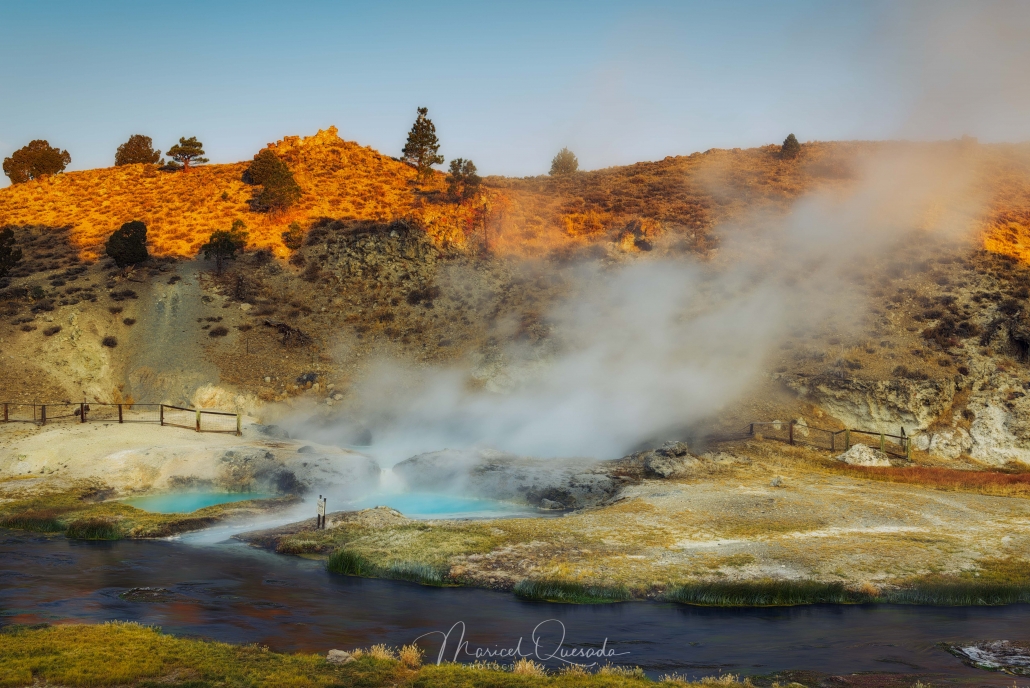 There is no access to the creek, as the water temperature can get extremely hot. I took a few more shots from behind the fence and after a while I followed the trail upstream, exploring, enjoying the area and breathing in the peace nature was offering.
I am certainly not an early riser and usually, when I think about getting up early to catch the sunrise, my mind automatically starts creating all sorts of excuses as to why it is better not to go… Many times I have listened to those excuses, but on this occasion, I am happy I didn't! I am also happy that I didn't miss the opportunity of getting to know a new place just because it was not what I had originally planned – sometimes you just need to embrace the unknown and enjoy the ride. Perhaps someday I will still photograph Mono Lake at sunrise, but for now, I'm glad this photo outing worked out how it did.
Furthermore, having the opportunity to appreciate and photograph a magnificent place like this, where many natural elements come together to create this scenic wonderland, and having it almost to myself, was priceless.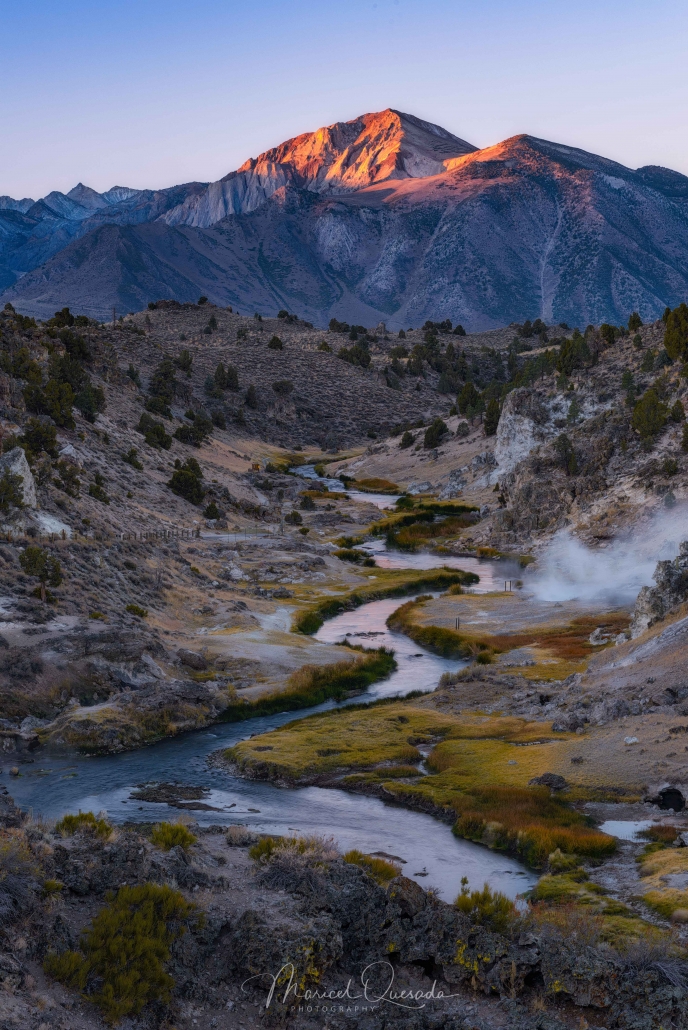 Thanks for stopping by!
Don't forget to follow me on social media and please feel free to share this with your friends using the buttons below.
https://maricelquesada.com/wp-content/uploads/2016/11/20171015_EasternSierra_2261-Edit.jpg
4016
6016
Maricel
https://maricelquesada.com/wp-content/uploads/2018/01/Maricel-Quesada-black-website-small.png
Maricel
2018-12-20 16:51:47
2018-12-20 16:51:51
Early Morning at Hot Creek