Visiting Iceland – Part 2
In Part 1 of this series, I talked about our first day in Iceland and how we got to plan our trip. On the second part, I want to tell you about our experiences during day two of our trip.
We had a great breakfast at our hotel in Reykjavík then we began our journey to the northwest side of Iceland, we drove through the Snæfellsnes Peninsula following road 54 all the way to Stykkishólmur where we spent the night.
Day 2 – Snæfellsnes Peninsula and Mt Kirkjufell
While driving through the Snæfellsnes Peninsula the sun started to come out, the morning colors were stunning so we decided to make a stop to take some photos of the mountains being warmed by the sunlight.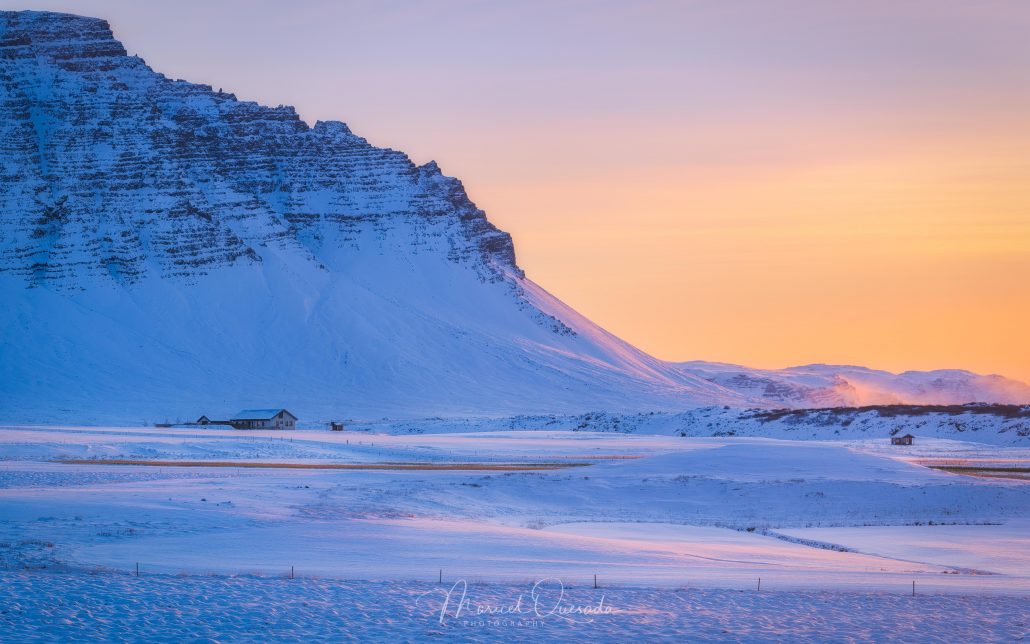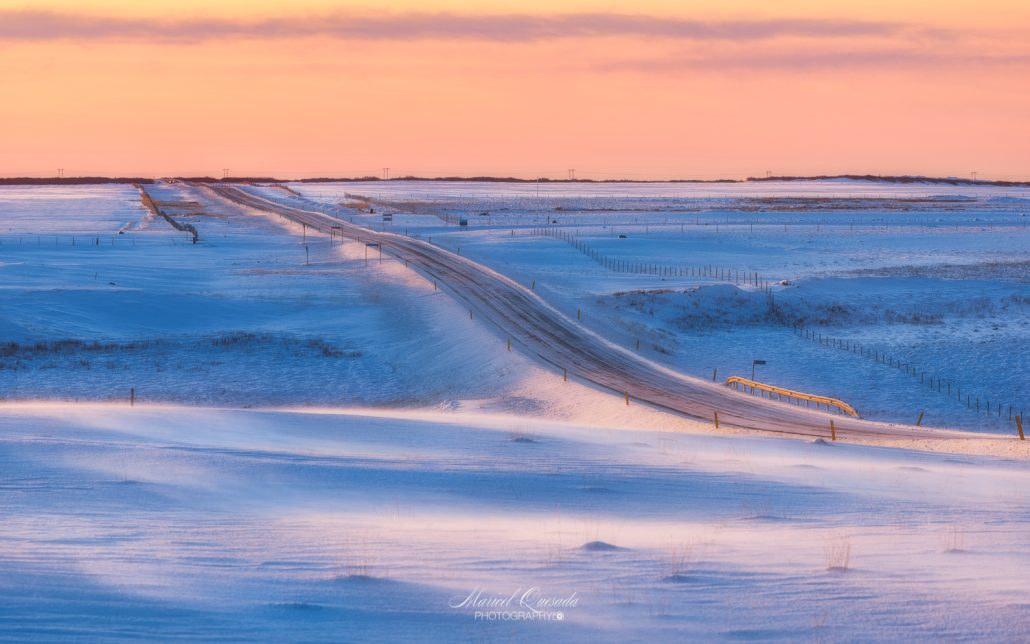 As you can see there were not a lot of houses in this area or too much traffic. The road was a bit icy due to the snow being blown away by the strong winds so we had to drive slow and very carefully. On the way we spotted a few horses next to the side of the road, so we decided to make another stop as we really wanted to see the famous beautiful Icelandic Horses.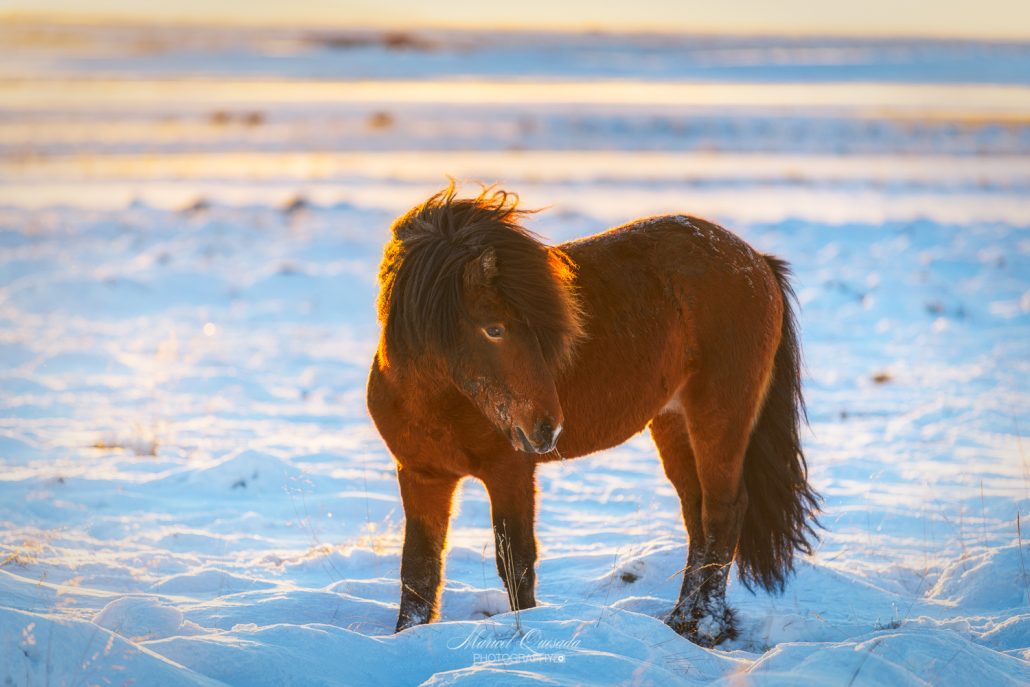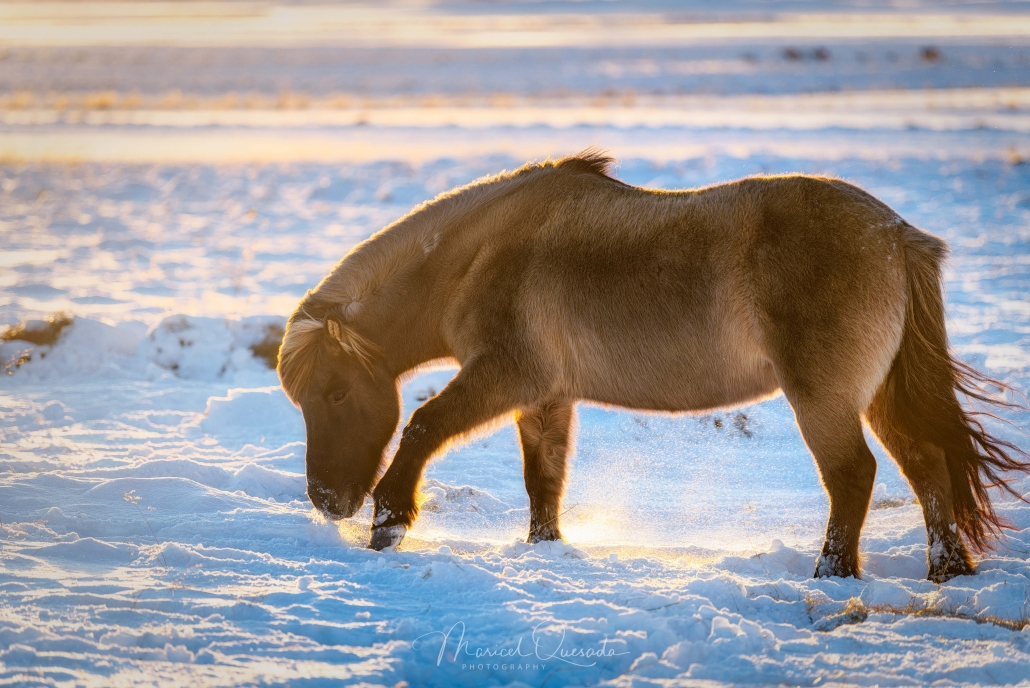 After enjoying the company of these beautiful animals, we continued our journey. The sky was clear and the morning sun was giving a golden glow to the mountains.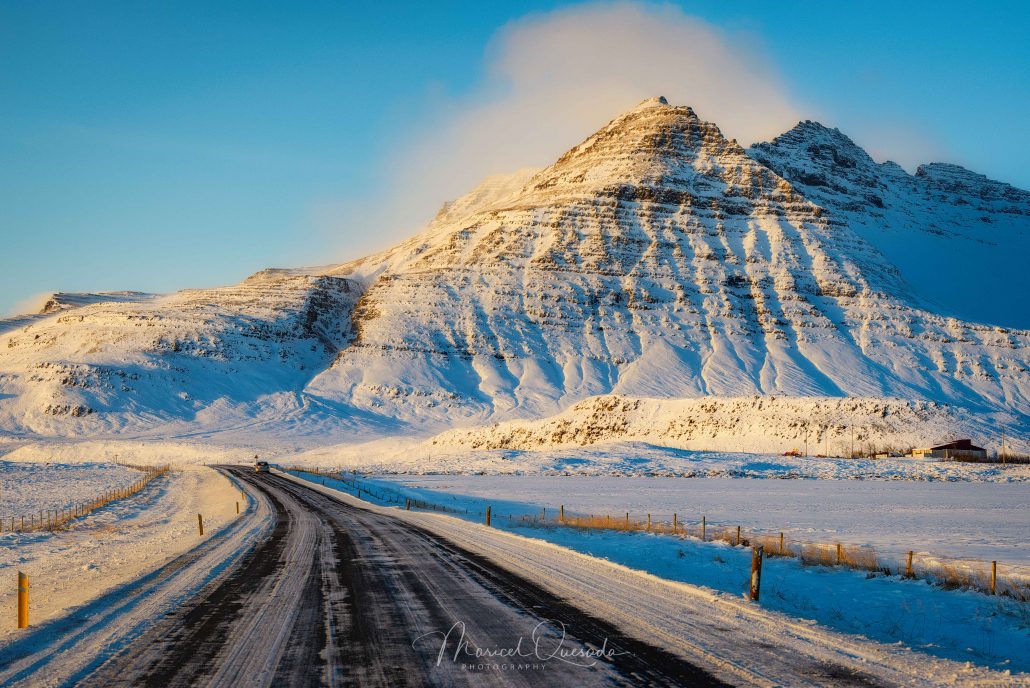 Búðakirkja
Our first official stop on our itinerary for the day was Búðakirkja, we wanted to visit the Black Church of Búðir which is a tiny wooden church dating back to the 19th century. With the snowy mountains in the background, the white floor due to the snow and the blue sky, this black church is a photographic gem, imagine this with the northern lights!⠀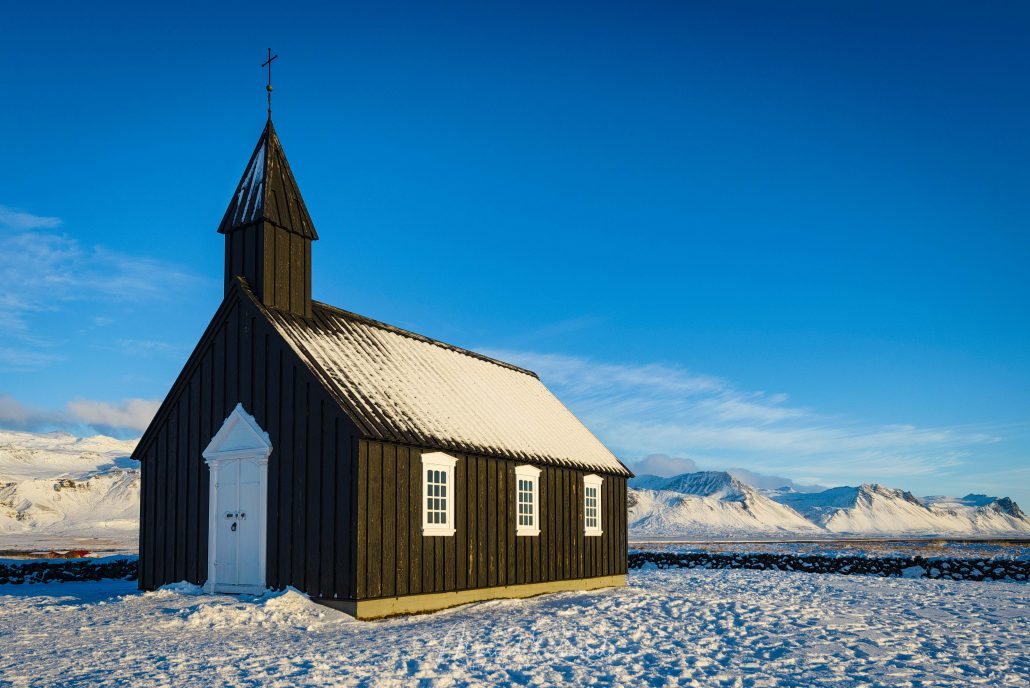 Gatklettur
Our second stop was in Gatklettur, a beautiful Arch Rock in the area of Arnarstapi, it was cold and windy but the view was spectacular.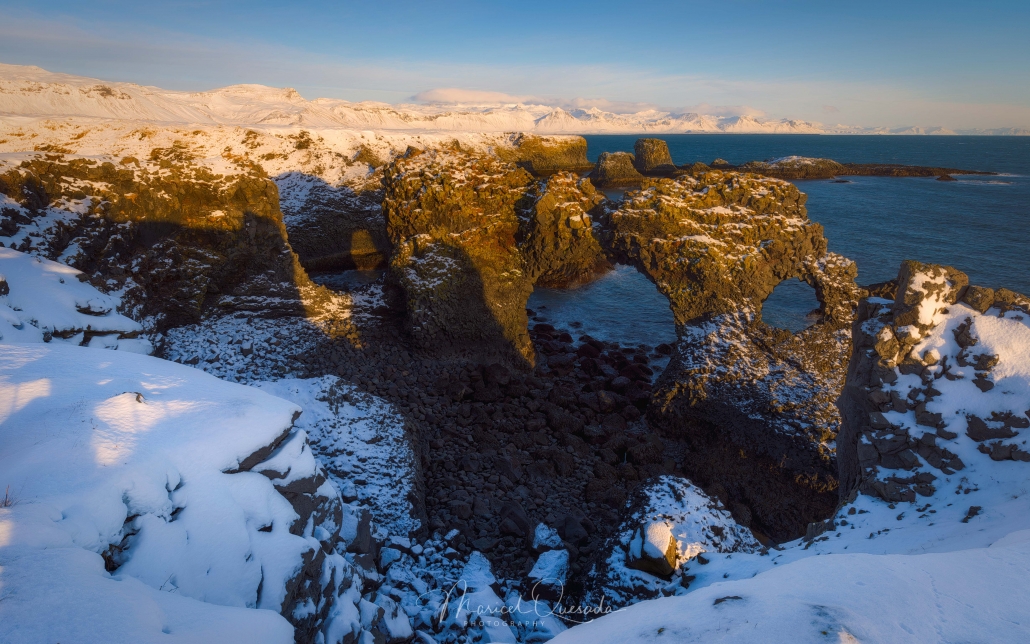 We had several more stops on the map that we wanted to make but it was getting late, due to the strong winds and the icy roads driving took longer than estimated, so after Gatklettur we decided to go directly to Kirkjufell to try to get there before sunset. Fortunately, we made it on time, there were a lot of people as this is a very popular spot. We parked in the Kirkjufellsfoss parking lot and headed to the other side of the waterfall to get a composition that included the falls and the mountain.
The sunset colors were beautiful, it was partially cloudy as there was a storm coming that night. We couldn't stay longer because we still needed to drive 40 min more to our hotel in Stykkishólmur.
If you don't want to have to drive more, there is a small town next to Mt Kirkjufell where you can stay, if we knew the driving conditions were going to be like they were we would have stayed there instead to be able to spend more time in Kirjufell and reduce the driving time.
Despite the short time there I was able to get some more shots I enjoyed.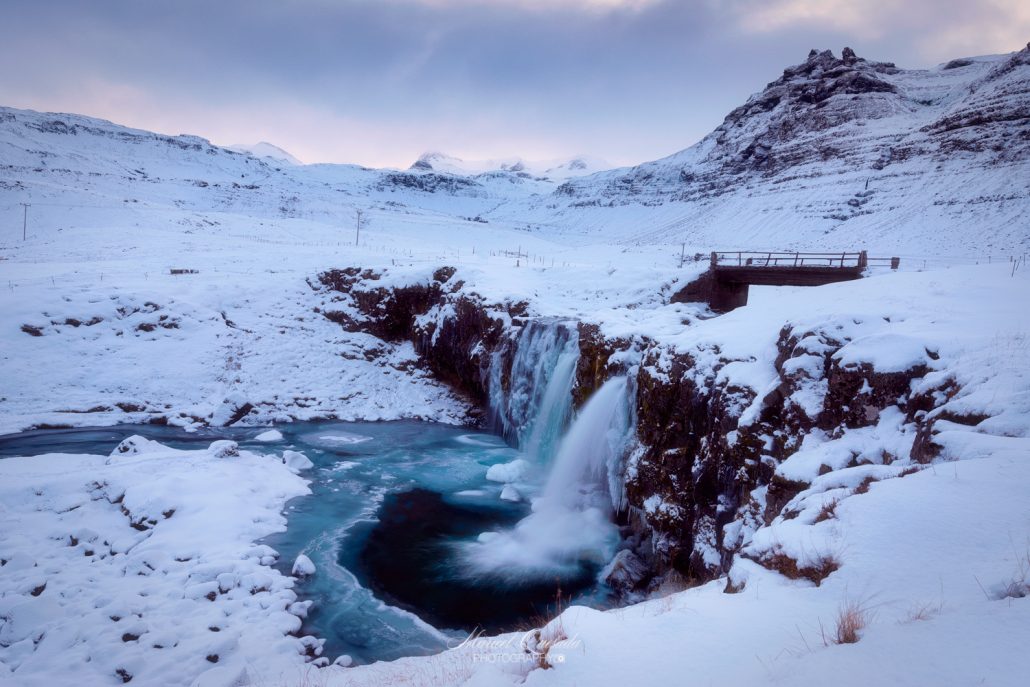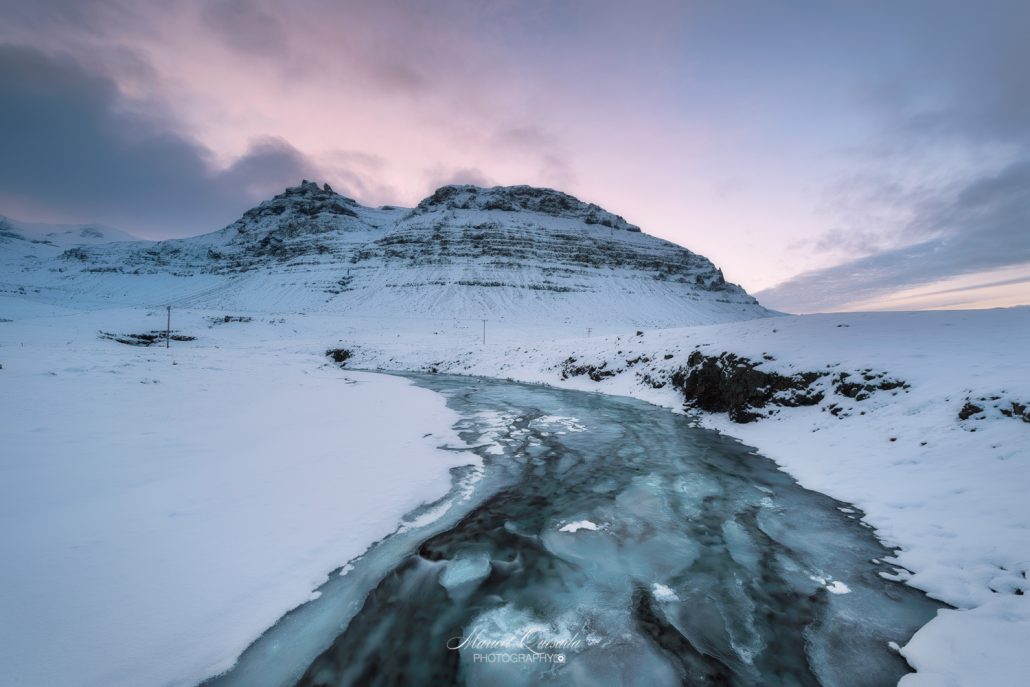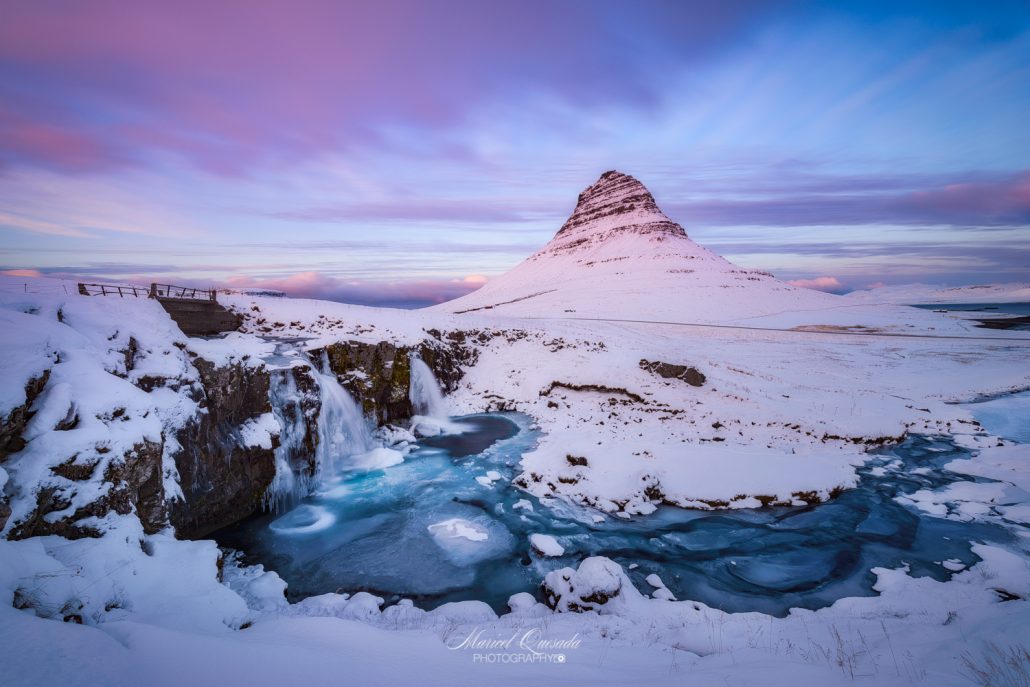 This was one of my favorite spots, I wish I had more time there to explore other angles, also to be able to visit at night to try to catch the mountain with the northern lights, but I don't lose hope and think I'll go back one day.
If you have time explore the area, try different angles, across the road there is another parking lot and there are trails around the mountain, there are usually horses there too, so the photo opportunities are endless here.
After Kirkjufell we headed to our hotel, we stayed in Hotel Fransiskus in Stykkishólmur, it is a small cozy hotel with breakfast and parking included, it had everything we needed.
Unfortunately, by the time we reached Stykkishólmur it was late and the next day we left early so we didn't have time to explore this town.
Day 2 Map
As I mentioned above, we added a lot of stops on this day, we could not visit them all but they are still here on the map, hopefully, this will give you an idea of all these other things you can visit in this are if you have the chance.
Thanks for stopping by!
Don't forget to follow me on social media and please feel free to share this with your friends using the buttons below.
https://maricelquesada.com/wp-content/uploads/2018/01/Maricel-Quesada-black-website-small.png
0
0
Maricel
https://maricelquesada.com/wp-content/uploads/2018/01/Maricel-Quesada-black-website-small.png
Maricel
2018-05-27 21:09:41
2018-09-20 22:26:24
Visiting Iceland – Part 2