Visiting Iceland – Part 1
I visited Iceland for 8 days last year and I would like to share some of my experiences with you, some information that might be helpful in case you plan to visit and some of my favorites photos I took during this trip.
I going to write several posts since it is a lot of information to put into just one, I hope you enjoy them, so here we go!
Before Arriving
Inspiration
We all know that lately, Iceland has become very popular thanks to social media and I can honestly say I am not the exception. I follow a lot of photographers who inspire me with their shots and techniques, lots of whom have shared lots of great shots of Iceland which of course had made me want to visit this gorgeous country.
Every time I saw one of these amazing photos I showed it to my husband which made his interest in visiting Iceland grow as much as mine. After several years of wanting to visit this beautiful country, in 2016 we decided that 2017 would be the year we will go and then we started planning.
Planning
One of my biggest influencers was Iurie Belegurschi who is a recognized landscape photographer from Iceland and also co-founder of Guide to Iceland, because of his influence and his photos we decided to use his company to book our trip.
We wanted to have some help with the itinerary but we didn't want to go in a guided tour so we could have more freedom and be able to adjust our plans if we wanted to, so we booked the 7 Day Northern Lights Self Drive Tour that included the car and all the hotel bookings plus extra tours that we wanted to do but with the freedom of driving ourselves.
From Guide to Iceland we got our itinerary for each day which included suggestions for places to visit, suggested the amount of time to spend on each place, the coordinates, and some other useful tips. Each booking had their contact information, address, phone number and email in case we needed to contact the hotel or service provider directly.
Moving Around
Since we were driving ourselves we made sure we had all the information needed before driving in Iceland during the winter. Thankfully Guide to Iceland provides lots of information, a couple of helpful blog posts are:
In addition to this, to help us understand our itinerary better and have a visual version of the trip for a given day I created Maps with the routes and possible stops using Google My Maps. These maps were incredibly helpful because you can add images to each stop which helped me associate a place with a name as these names sometimes were really hard to remember. I will be sharing the maps I created in case they might be useful to you.
Like many people these days, I rely on my smartphone a lot to access information, but sometimes you don't have coverage and you cannot access your data when you really need it, so one recommendation is to make sure to write down the coordinates of all the places you want to visit during a day, either in a notepad or in a note file in your phone that you can access offline. Also, make sure to rent a GPS for your car as this is almost always reliable.
Day 1 – Arriving and Reykjavik
We booked our tickets through Icelandair, we arrived in Keflavik International Airport at 6:15 am where the car rental people were waiting for us to take us to get our car, it was still dark and it was snowing a little bit.
The car rental company that we got the car from was SScarrental, they provided a good service, transportation from and to the airport and the car was in good condition, we had no issues.
Blue Lagoon
The first stop in our itinerary was at the Blue Lagoon, we booked the standard entrance ticket and rented towels and robes when we arrived, they also rent flip flops and have drinks and food.
After a long flight, having a swim in these thermal waters is very relaxing, also there are some trails outside the building where you can walk around and take pictures of the lagoon.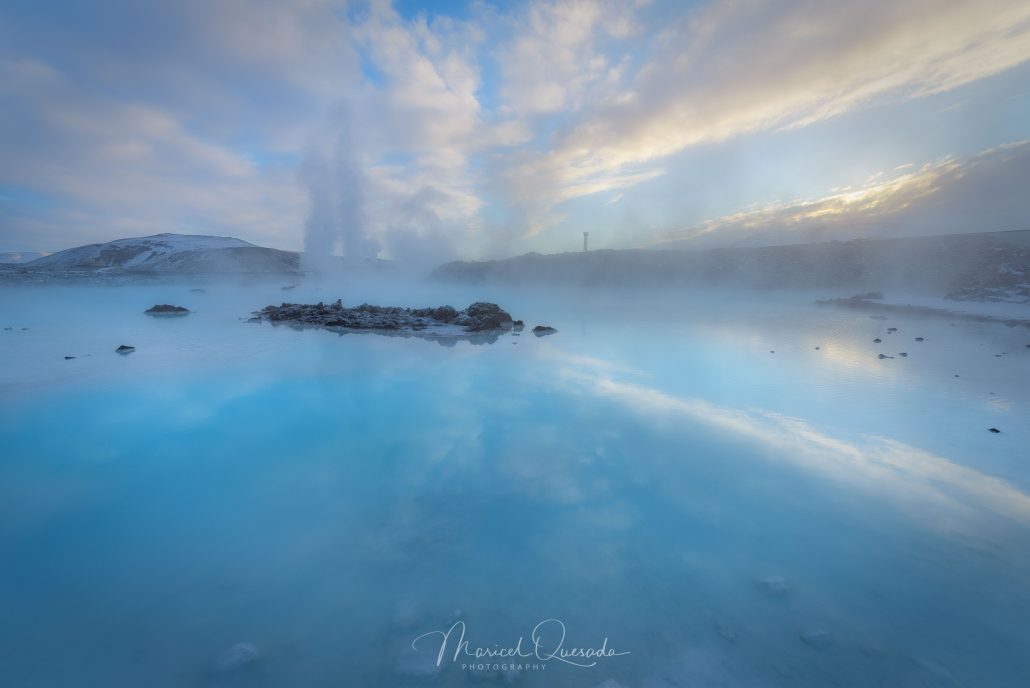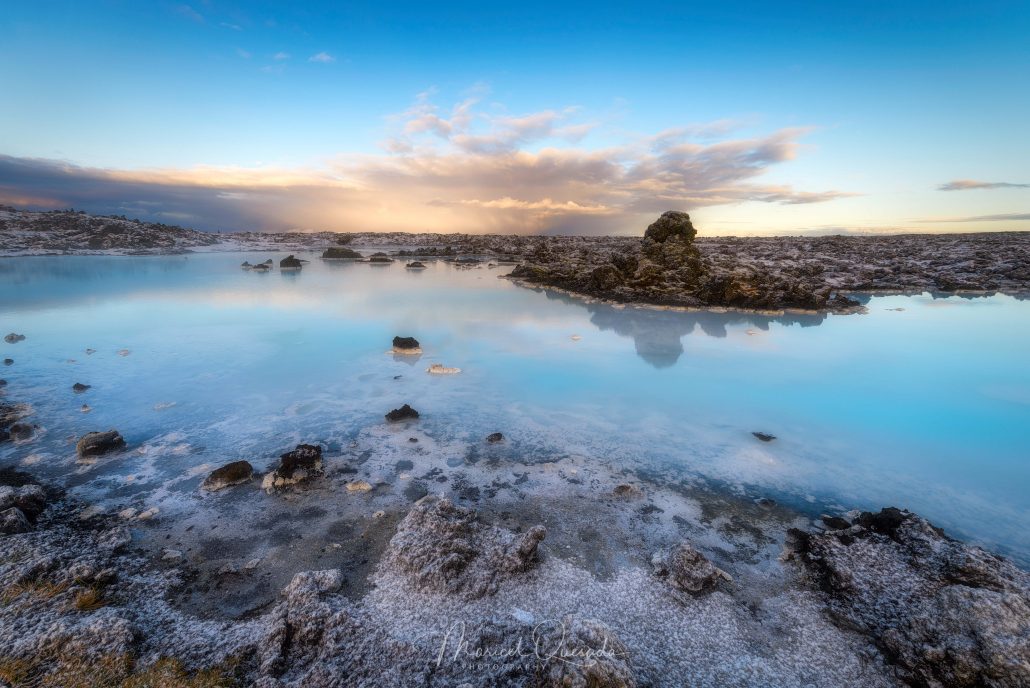 Reykjavik
From the Blue Lagoon, we went directly to Reykjavik to get some lunch and then check in, we parked at a public parking near the Harpa Concert Hall and Conference Centre where we were able to pay with a credit card, we never needed cash anywhere.
For lunch we found this nice small restaurant called  Verbúð 11 – Lobster & Stuff where the food was simply amazing, we didn't have a reservation but were lucky to get a table fairly quickly, totally recommended.
After lunch, we went to the hotel to check in and take a nap. We stayed at Fosshótel Rauðará, it is a nice hotel in the middle of Reykjavik, only 150 m from Laugavegur shopping street, 50 m from Klambratún city park and around 1 km from Hallgrímskirkja Church.
After checking in and taking a short nap we went to see Hallgrímskirkja Church which is the largest church in Iceland and it is visible throughout the city. It was designed by Guðjón Samúelsson in 1937 who got his inspiration by the shapes and forms created when lava cools into basalt rock.⠀
There was a lot of tourists but I still managed to take a shot of this amazing building without people in it.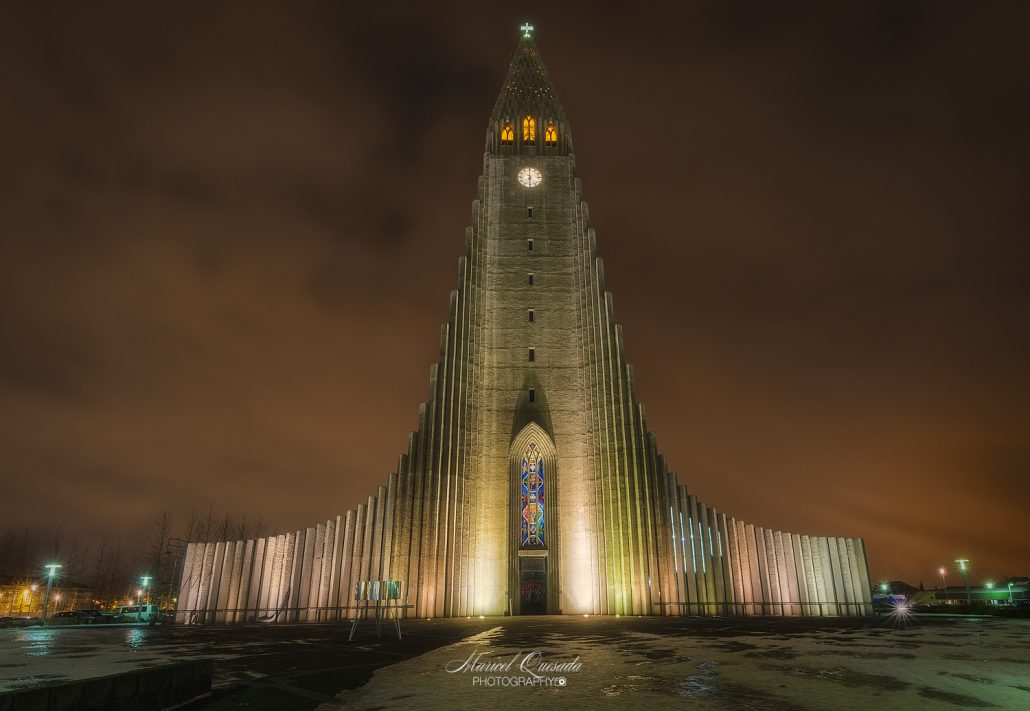 Right in front of the Hallgrímskirkja Church, there is the Skólavörðustígur street where you can find a lot of shops and restaurants. In this street, we found a restaurant which name I can't pronounce but where the food was to die for, we ventured in hoping to get a table and luckily we did even though it was pretty crowded, sometimes that is the advantage of just being two.  The restaurant's name is Sjávargrillið, I totally recommend this place but to be on the safe side I suggest getting a reservation as it gets pretty busy. It was so good that we went back on our last night in Reykjavik and ordered the exact same dishes.
The next day we left Reykjavik to drive up to the west to visit Buðir and Kirkjufell, I'll talk more about these places in Part 2 of this series.
Day 1 Map
This map lists some of the main points of interest in Reykjavik, we didn't get the chance to visit them all but here they are as a reference.
Thanks for stopping by!
Don't forget to follow me on social media and please feel free to share this with your friends using the buttons below.
https://maricelquesada.com/wp-content/uploads/2017/12/20171118_IcelandDayOne_3126-Edit.jpg
1001
1500
Maricel
https://maricelquesada.com/wp-content/uploads/2018/01/Maricel-Quesada-black-website-small.png
Maricel
2018-02-26 22:22:58
2018-09-20 22:24:43
Visiting Iceland – Part 1