In Part 2 of these series I wrote about Panther Beach, today I want to talk about Shark Fin Cove.
Part 3 – Shark Fin Cove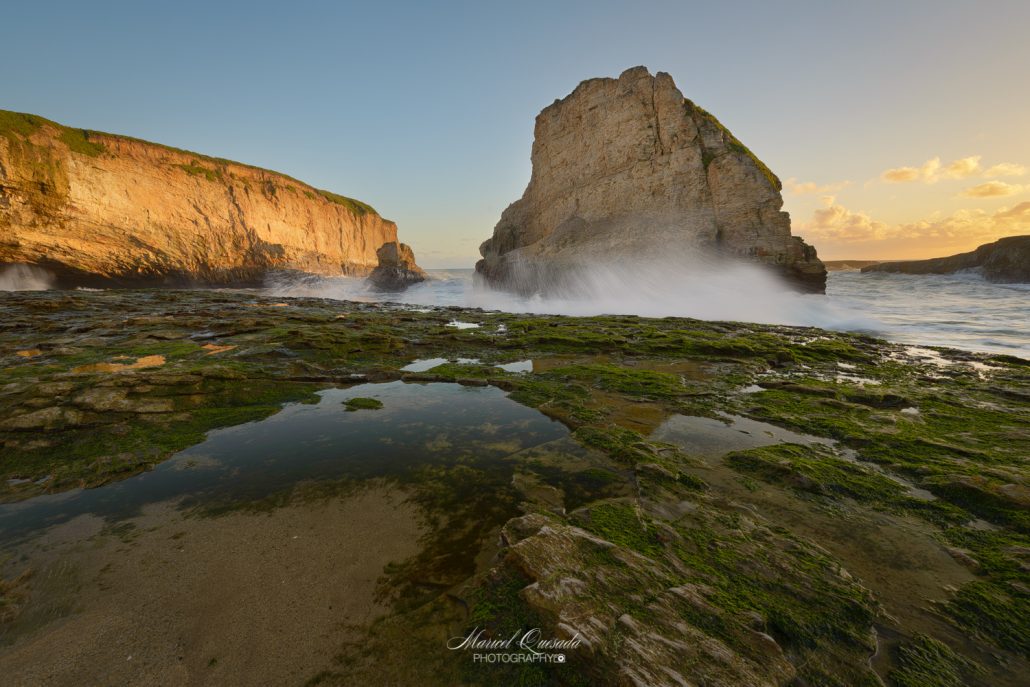 Shark Fin Cove features a big rock that depending on the angle you see it looks like, you guess right, a shark fin. It is located around 1 mile south of Davenport, CA and it contains a lot of natural elements to play with.
There is no official parking lot but you can park on the side of the road, there is enough space for several cars and the area is wide enough so your car will not be too close to highway 1.
How to get there
If you use Google Maps it is easy to find, it is one of those popular places among photographers so much that Google Maps has a camera icon on it. Use this link to get the exact location.
Same as with Four Mile Beach and Panther Beach, Google Maps will show you the location of the cove and not necessarily where you need to park, so once Google tells you that you have arrived you still need to drive around 300 feet more if you are coming from Santa Cruz or park 300 ft before you reach your destination if you are coming from Davenport.
Once you have parked you need to walk down a dirt road, cross the train tracks and then go down to the cove which can be a bit strenuous for some, it is not too bad but it is something to consider.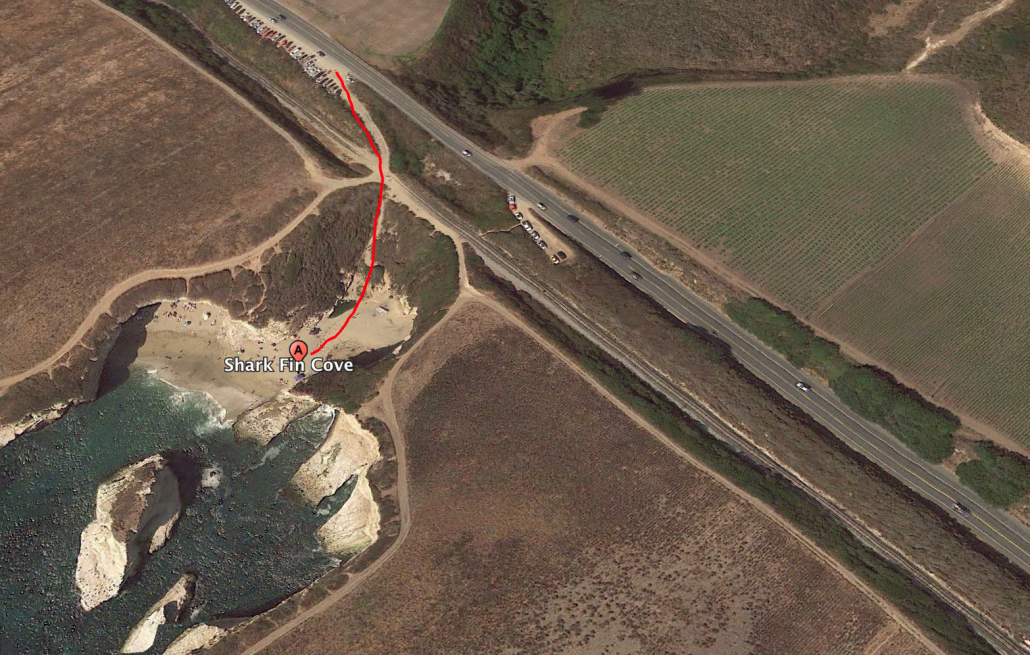 What to do
Once you cross the train tracks you can get a view of the Shark Fin rock from above, the view is amazing from this angle. I took this shot from the trail down the cove during Spring last year.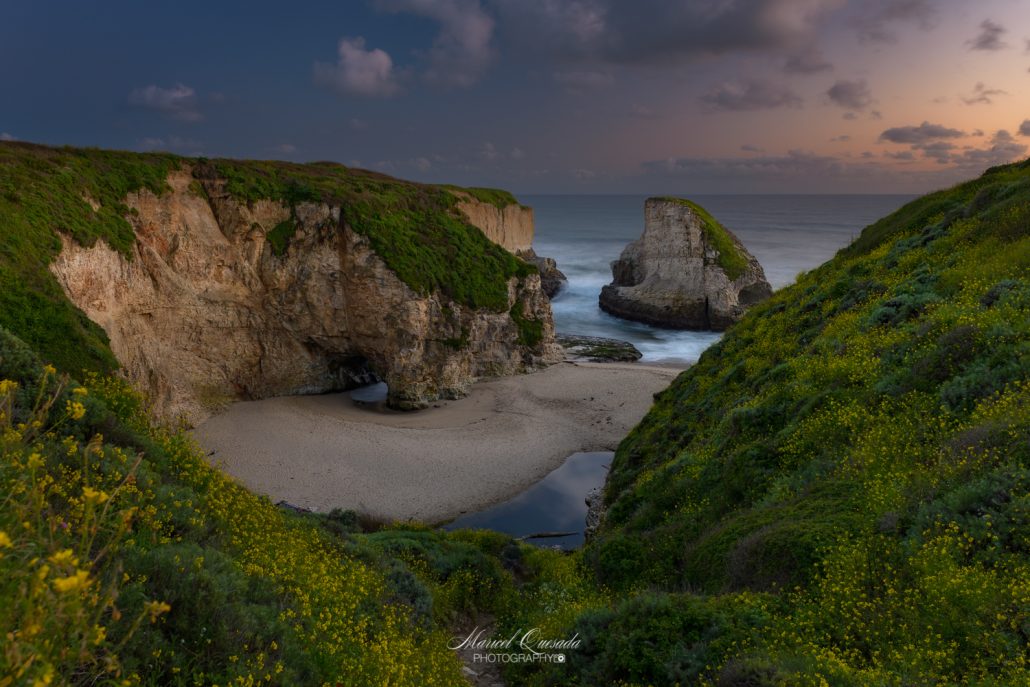 Once you get down there are many different angles and compositions you can play with. There is a hole in the rocks where the waves come through.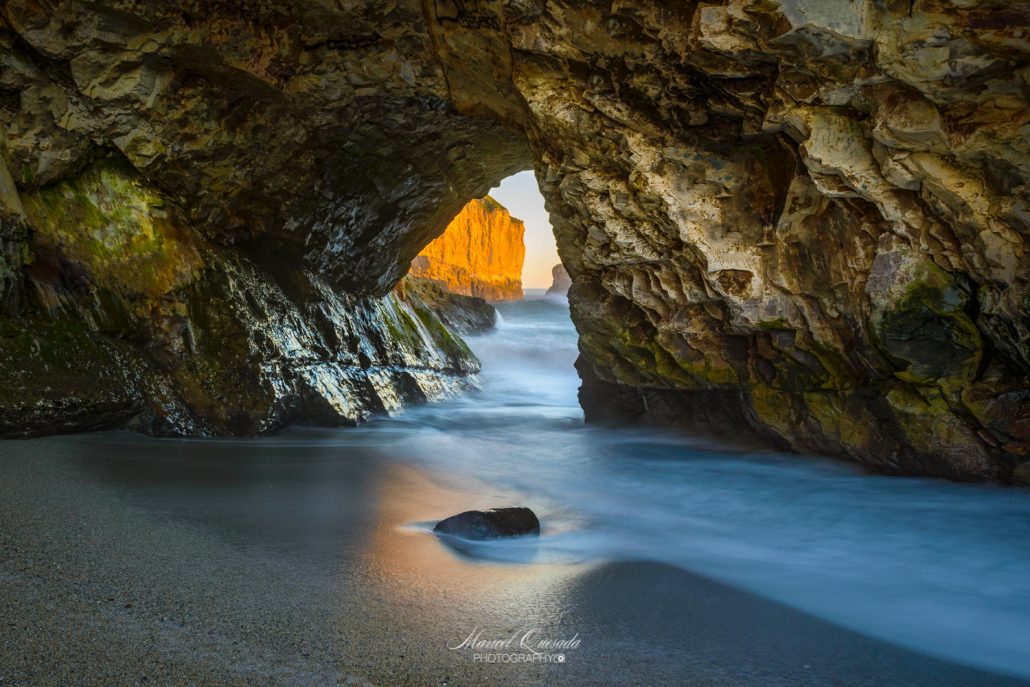 On the other side of this wall, there is like a platform that depending on the tide might get full of puddles creating beautiful reflections.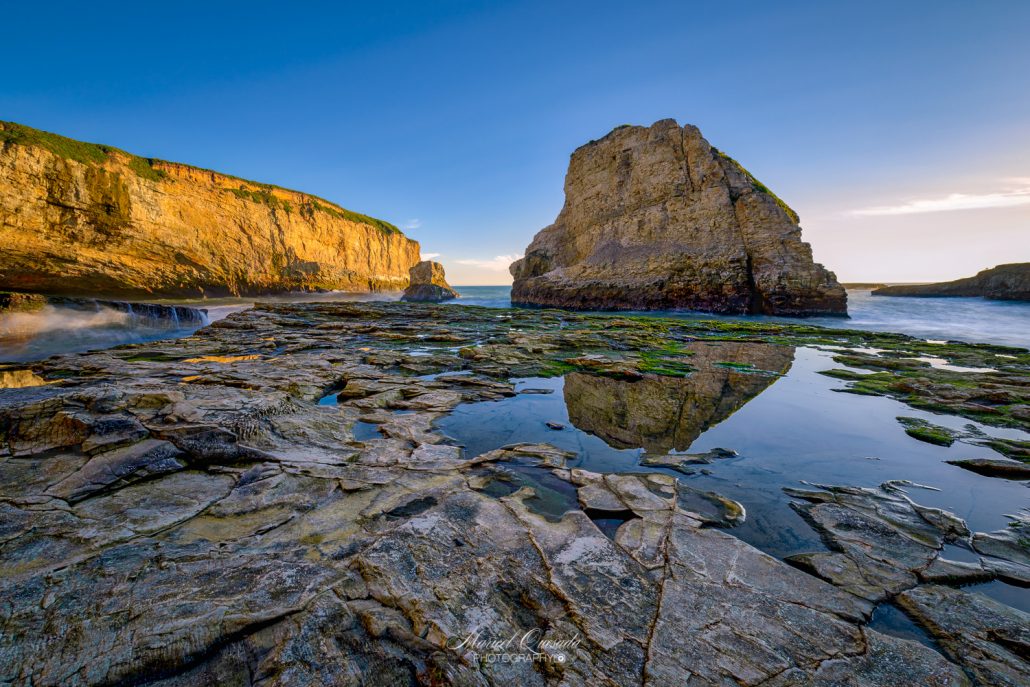 You can also play with the water motion around these rocks, the possibilities are endless.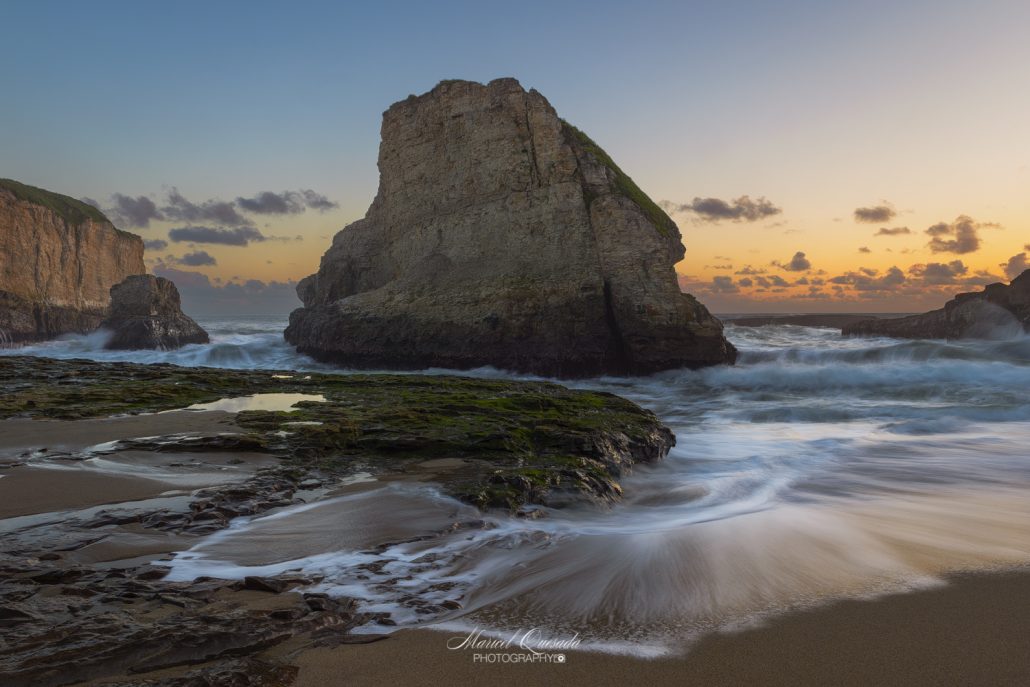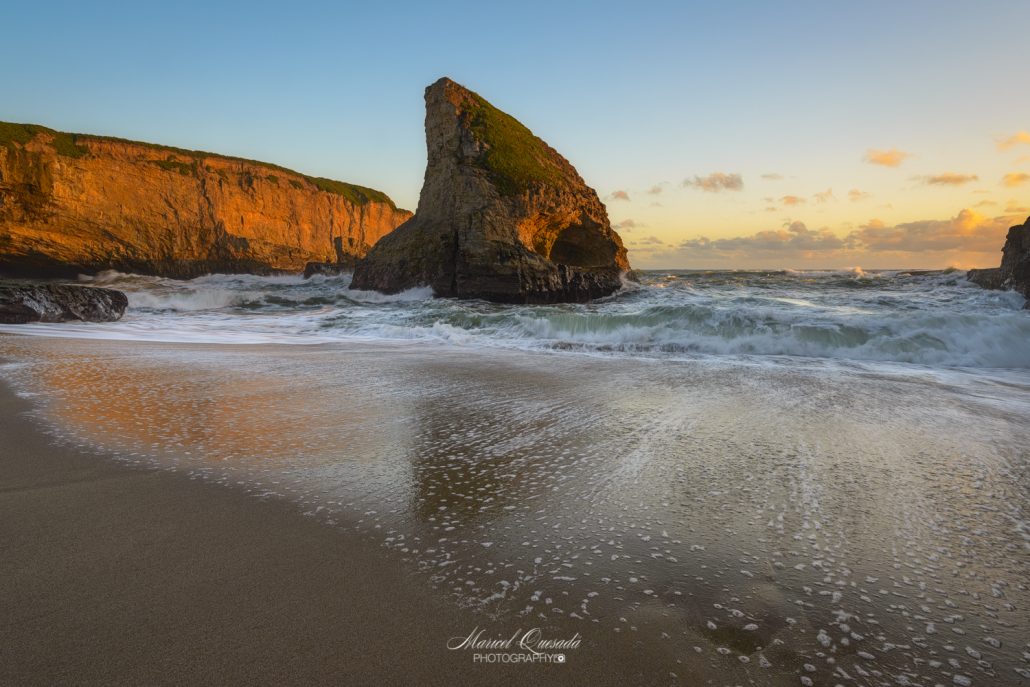 Other compositions are also possible that not necessarily involve the Shark Fin rock, for example, I enjoy a lot when the waves are strong as you can combine them with the other elements of the area and create interesting photos.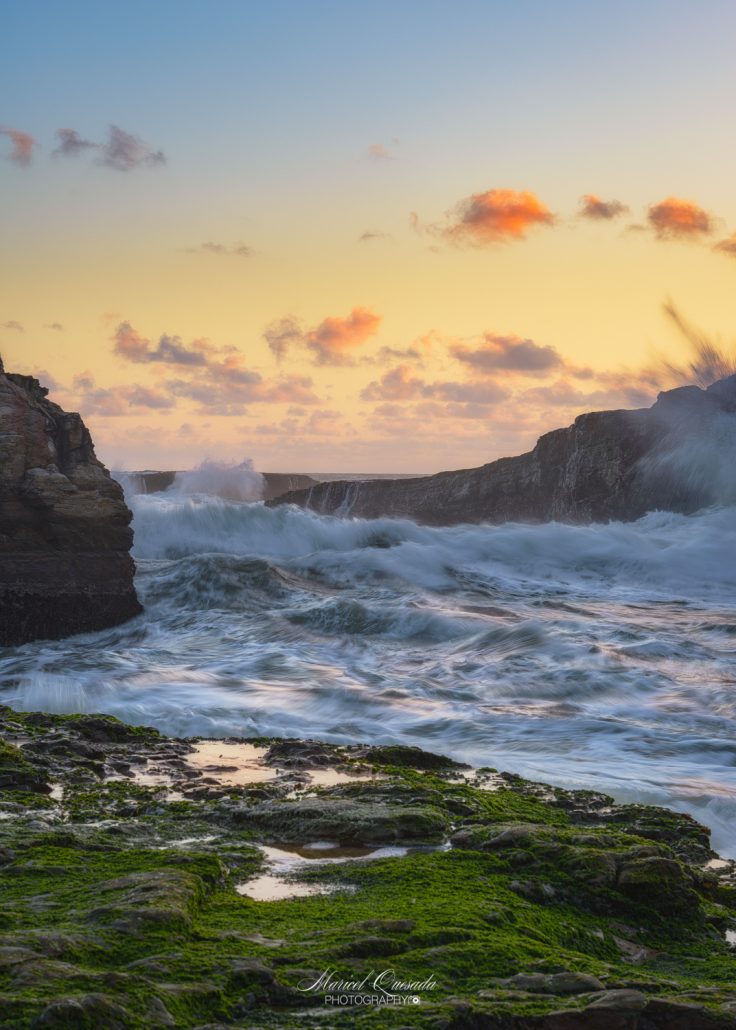 If you don't want to go down to the cove or you want to also look for other compositions from above, there are several trails that you can take that will give you different perspectives.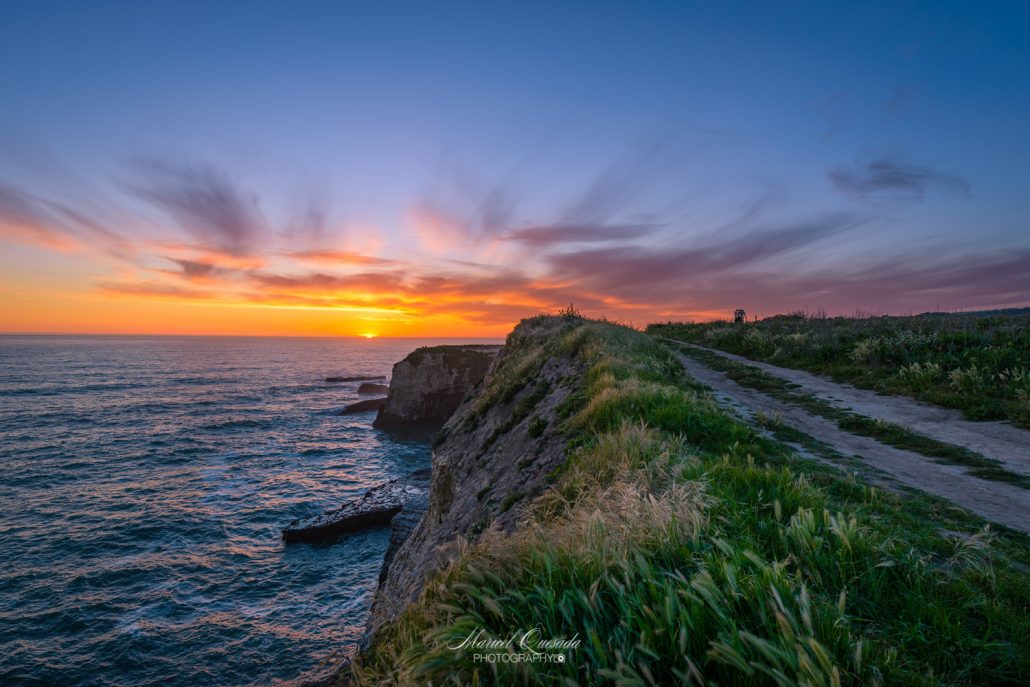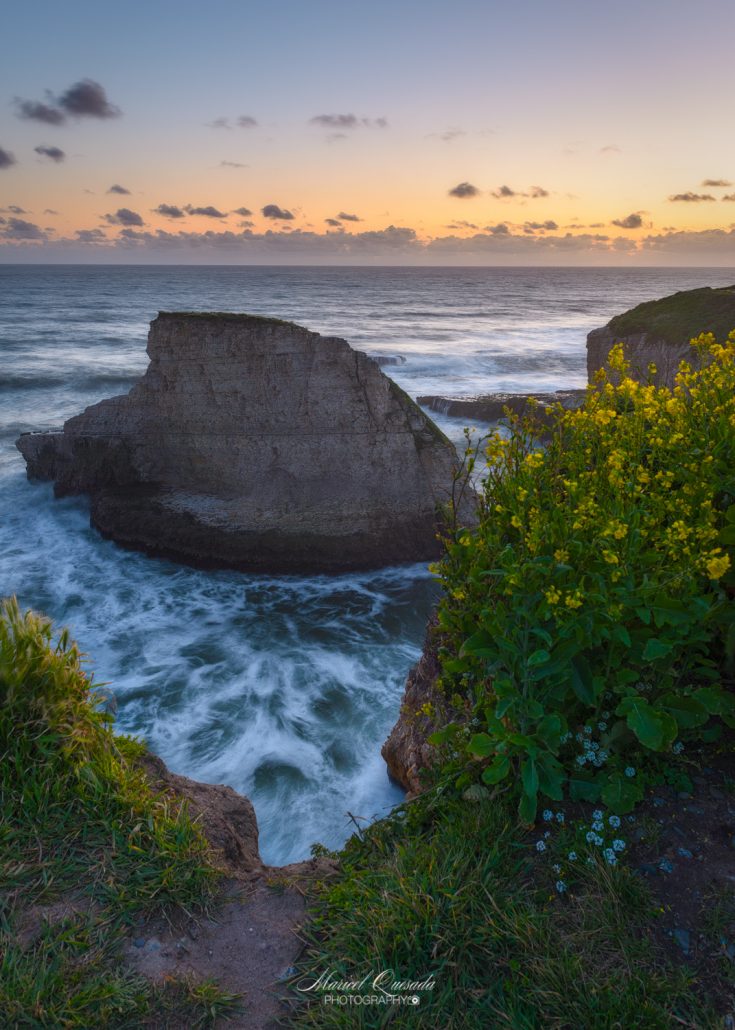 Shark Fin Cove is also very popular for night shots with the milky way, you get a bit of light pollution from Santa Cruz but not that much that will prevent you from taking a great night shot. I still need to go and get my night shot from this place, hopefully, this year I will get to do that.
There are no trash cans in the cove, so please bring a trash bag and take all your things back with you so you can dispose of them appropriately later.
If you visit this beach please let me know your experience in the comments.
Don't forget to follow me on social media and please feel free to share this with your friends using the buttons below.
https://maricelquesada.com/wp-content/uploads/2016/02/20160904_SharkFinn_0058-Edit-Web.jpg
1012
1500
Maricel
https://maricelquesada.com/wp-content/uploads/2018/01/Maricel-Quesada-black-website-small.png
Maricel
2018-02-22 22:11:04
2018-09-20 22:22:26
Where to shoot in Santa Cruz – Part 3